Coffee Cosy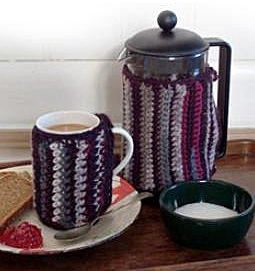 I was in need of giving a little gift to my Mum and wanted to surprise her.
There's never anything to get her that quite fits the bill and so I resort to making things for her. And this time I had a dual purpose – I was aiming to use up some of the odd bits of wool that I have accumulated and that I can't seem to throw away!
Luckily these all worked together and I was able to quickly crochet a simple coffee pot cover that, with a couple of buttons, would fit nicely and keep her coffee warm as well as looking lovely.
I used the height of the pot as the width I would be working to and made sure that the length would fit around the cylinder of the pot; a crochet edge was added at the end to complete the fabric, before buttons made the cover usable.
As long as the buttons aren't too big then they can be pushed through the crochet stitches at the corner.
I enjoyed making these, and hope others do too. It's such an easy pattern that those more experienced will be able to take the idea and match their own yarn stash to it, making the changes that might be needed.